Join us on Saturday, June 13 for a special event: The Artist's 1-Page Marketing Plan Workshop with internationally-known Art Biz Success coach Alyson Stanfield. She'll spend the afternoon working with artists like you to create a personalized plan for promoting your art.
Description
The workshop is for artists who are serious about promoting their work. It is not for hobbyists, but for artists who are willing to invest in their professional careers. Those who will be best served by this workshop are artists who are already doing some marketing by exhibiting, posting to social media, and using email to stay in touch with prospects.
Participants will receive…
Pre-workshop orientation and a little homework
Live workshop – 3 hours working with Alyson and other artists on your marketing plan
PDF of Alyson's book I'd Rather Be in the Studio: The
Artist's No-Excuse Guide to Self-Promotion prior to the workshop
Hard copy (!) of Alyson's book at the workshop
Follow-up check-ins for accountability
The workshop will be followed by a reception from 4 – 5 pm in our Gallery with an opportunity for additional conversation, networking, and light refreshments.
I'm looking forward to working with you on your marketing plan! I guarantee that if you show up prepared and with an open mind, and if you follow the steps in the workshop, you'll leave with a 1-page marketing plan that you can begin implementing immediately.
About Alyson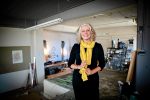 Alyson Stanfield has been helping artists succeed since founding Art Biz Success (formerly Art Biz Coach) in 2002.
She is the host of the Art Biz Podcast, the author of I'd Rather Be in the Studio: The Artist's No-Excuse Guide to Self-Promotion, and the creator of the Art Career Success System.
Alyson has led art marketing workshops and delivered keynotes in 27 U.S. states.
How to Enroll
Use the "Register" button above for more information and to enroll in the workshop. You may pay by credit card or PayPal. Space is limited and will fill fast, so don't wait!
REFUND POLICY: Cancellation requests made 30 days or more before a workshop will be granted a refund of your registration fee MINUS a $10 fee. There are no refunds after that, but we are happy to transfer your registration to anyone you designate.
Date and Time
Sat, June 13, 1:00 – 4:00 pm
Reception & Networking:
4:00 – 5:00 pm
Location
Color | Ink Studio & Gallery
20919 John R Rd.
Hazel Park, MI 48030
248-398-6119
View Map