Amanda Koss: "Conversations With Myself"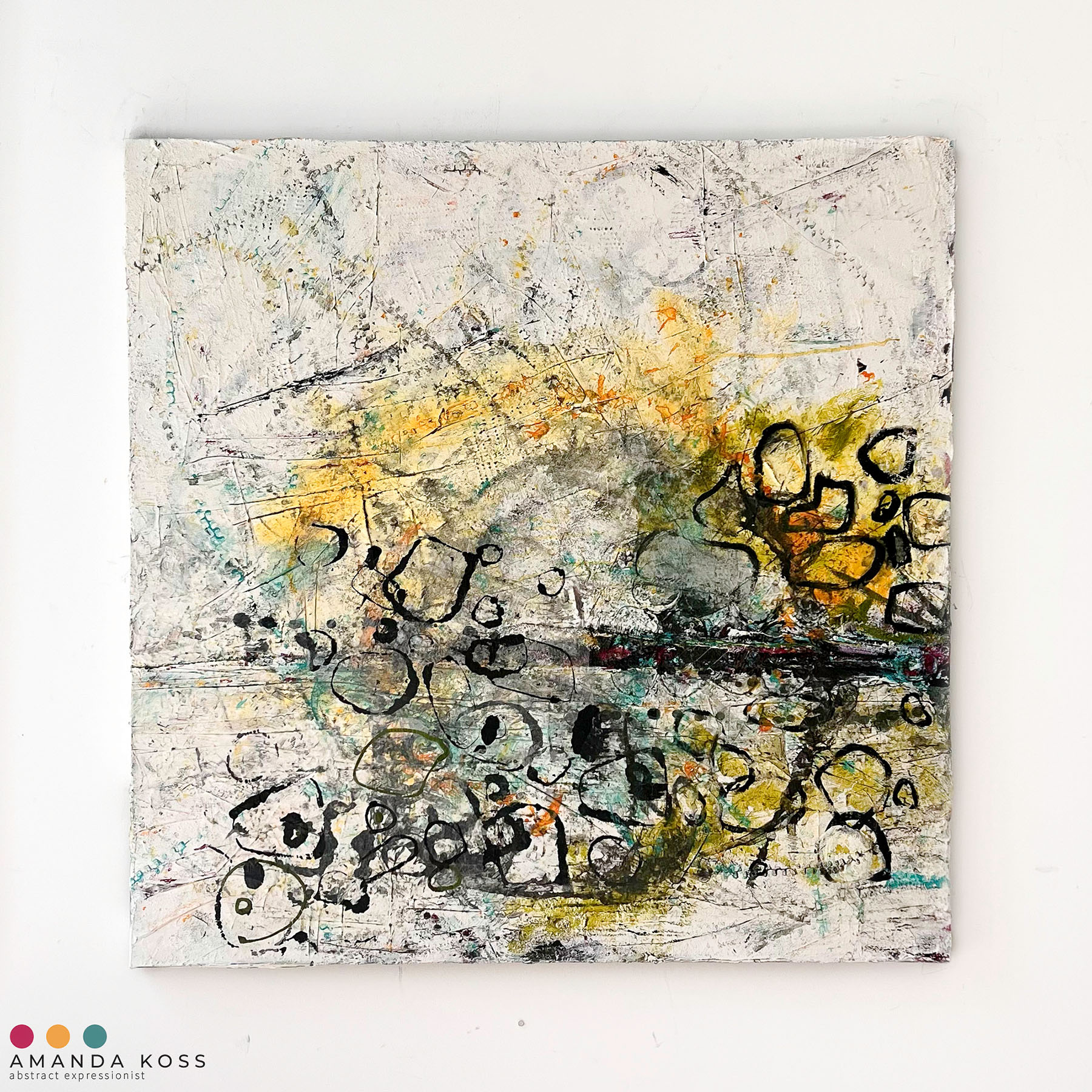 August 4 – September 22, 2023
Reception & Artist Talk: Saturday, August 12 at 2–4 pm
Color | Ink Studio & Gallery is pleased to present "Conversations With Myself", a solo exhibition of abstract impressionist paintings by artist Amanda Koss. The show opens on August 4 and runs through September 22.
With a bold and innovative approach to art, Koss captivates viewers through dynamic and emotionally charged creations. The work embodies a harmonious fusion of vibrant colors, bold brushstrokes, robot vacuums, and textured layers, inviting viewers to embark on a visual journey of introspection and discovery.
"I embody what it means to be an abstract expressionist. I paint what I feel, the life I live, my relationships with others and connections I have made," says Koss. "Drawing inspiration from the depths of my imagination and the complexities of the human experience, I transform raw emotions into visually captivating masterpieces."
Gallery Director Candace Law adds, "We're pleased to welcome Amanda to the Gallery and delighted to feature exciting new work that uses robot vacuums as a tool—a preview of an upcoming collection of AI-influenced art in 2-D form."
Koss is a Michigan native and works from a studio in Dearborn, immersed in the creative process and experimenting with various techniques and materials to push the boundaries of abstract expressionism. Koss is also deeply involved in the art world as a curator and advocate, with a passion for art that extends beyond the confines of the studio to actively seek out opportunities to engage with and support fellow artists.
The public is invited to attend a Reception and Artist Talk on Saturday, August 12 from 2-4 pm. It's free, and guests will have the opportunity to meet the artist in person and listen to a talk about the artwork. Light refreshments will be offered.
Visiting the Gallery
We encourage you to start your visit to the Gallery by exploring the virtual tour of the exhibition below. Click or tap on the arrows to walk through the Gallery, click and drag to look around, or scroll to zoom in and out. If you see a work you're interested in, scroll down to find it in the listing of the works on display.
Artwork on View
The individual works on view in the exhibition are displayed below. Click on an image for more details.