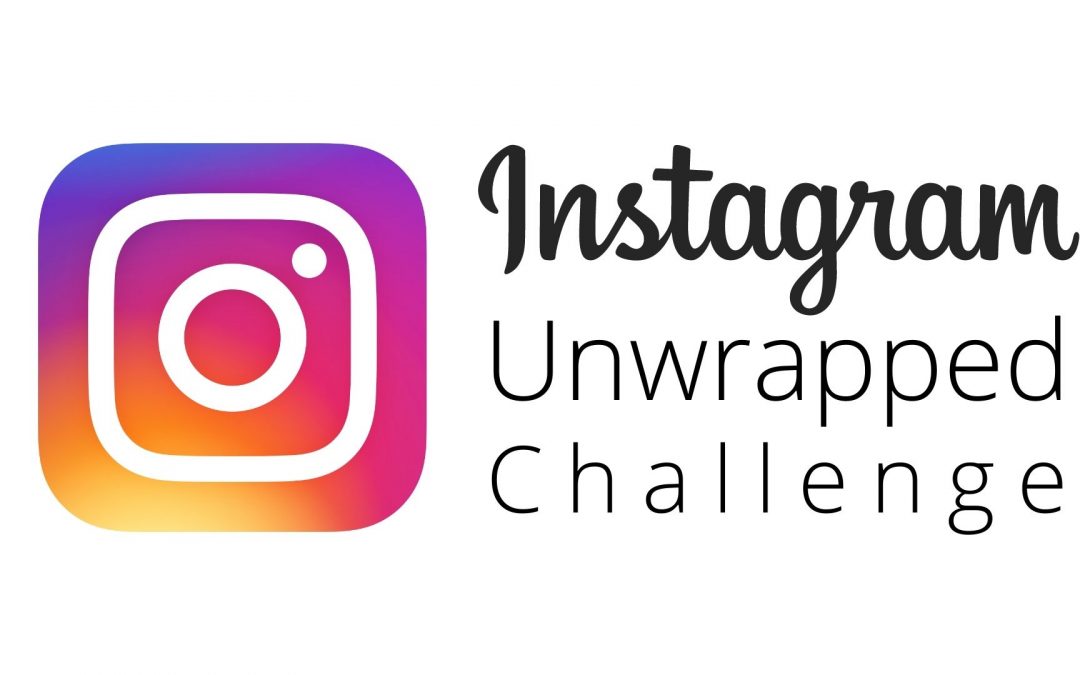 Description
Did you know that Instagram is the fastest growing social media platform for artists? Are you wondering about using it to share your art with others? Do you wish you knew more about how to use it? Join professional photographer Eric Law for a 4-week challenge and start using Instagram today.
In this online workshop, you will learn to use Instagram in detail by:
Setting up your Instagram account and navigating the app
Uploading photos, applying filters, and editing the photos
Adding engaging captions with your photos to tell your story
Creating a bio in your voice that introduces you and your art
Researching hashtags and using them to build a following for your art
Identifying the types of photos to post and setting up a schedule
Searching for and following other artists, galleries, and collectors
Using the video tools to extend the engagement with your audience
There will be ample opportunity for discussion with other artists in the Facebook group and to get your questions answered in the weekly live Q&A sessions. And you'll apply what you're learning by posting on Instagram daily. By the end of the Challenge, you'll be using Instagram to share your artwork and engage with your followers like a pro.
Schedule
February 1 – Week 1: The Basics
February 4 – Live Q&A Session, 1:00pm
February 8 – Week 2: More Engagement
February 11 – Live Q&A Session, 1:00pm
February 15 – Week 3: Make Videos
February 18 – Live Q&A Session, 1:00pm
February 22 – Week 4: Post Like a Pro
February 25 – Live Q&A Session, 1:00pm
All times are EST. All Q&A sessions will be recorded.
Location
Private Facebook Group
You will receive an email with a link to join the group about a week before the challenge starts.
How to Register
Complete the registration form below. You may pay by credit card, PayPal, or mail a check. When completed, click the "Register" button at the bottom of the form to enroll in the Challenge. You will receive a confirmation if your enrollment is successful. If you pay by check, your registration is not final until payment is received.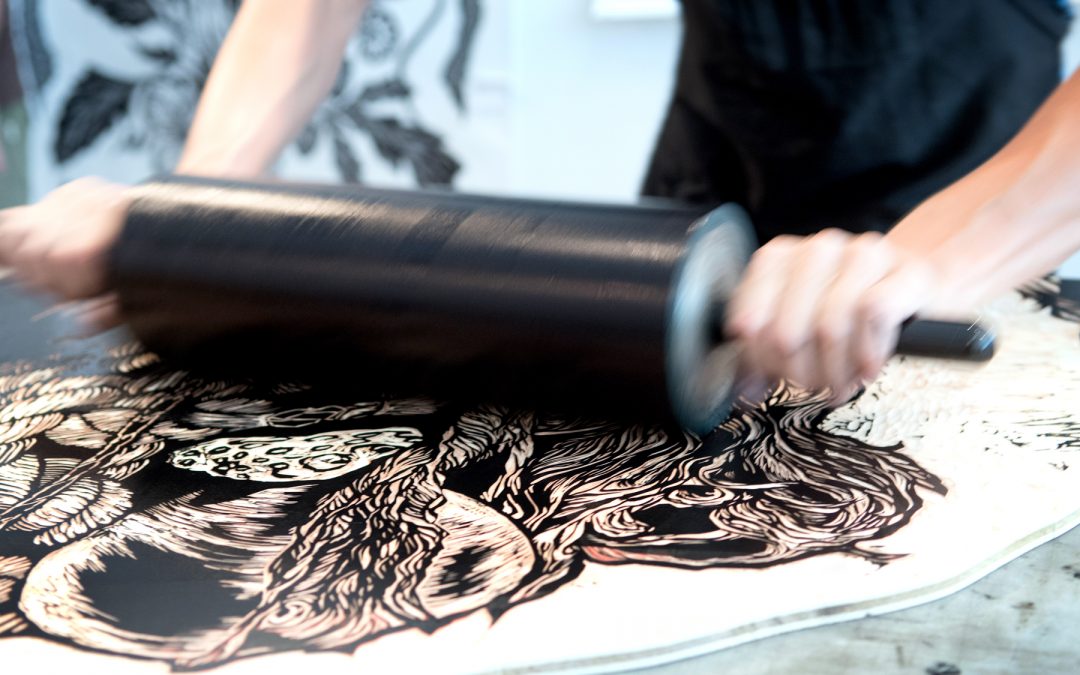 Description
​BIG INK and Color | Ink Studio are hosting a weekend of monumental woodblock printing in Fall 2021. We invite artists interested in carving a woodblock of at least 24 by 36 inches to participate!
First, you submit a design for consideration. Either a previously created image or a new concept is acceptable. If selected, you'll have two months to carve a woodblock based on your submission. No prior printmaking experience is necessary. You'll learn the process through a combination of online and in-person instruction.
That weekend, BIG INK will transform Color | Ink Studio into a print studio featuring The Big Tuna: our custom-designed giant mobile press. And we'll invite* the general public to witness the spectacle of you and the other participants printing together.
BIG INK blends elements of a formal class and a maker fair. It's a fun way to expand your skill set, meet other artists, and engage with the public. Bring your next big idea to life while participating in a one-of-a-kind art making bonanza! We encourage all skill levels to apply.
Participation highlights include:
✔️ Online Master Class Access
✔️ Speedball Art Products Samples
✔️ Hands-on instruction during the event
✔️ Three impressions from your woodblock, all of which you get to keep
Max. Woodblock Size: 40 by 96 inches
Visit BIGINK.org for more information about their programs.
*Safety is our top priority. We'll adhere to local guidelines during the COVID-19 pandemic.
How to Apply
Use the "Apply" button above for more information and to apply. There's no cost to apply; accepted applicants pay $300. The application deadline is August 9; notification is August 11.
Free to apply
Accepted applicants pay $300
Date and Time
October 16 & 17, 2021
One day attendance required
Recent Events & Workshops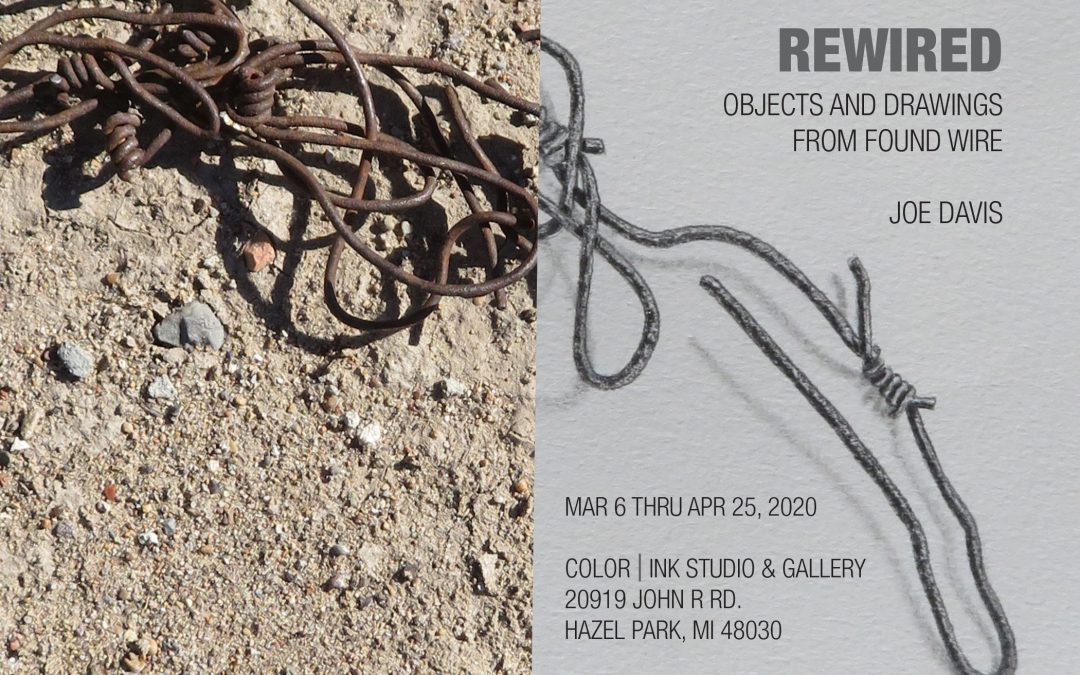 On Wednesday, April 29 we had a live online chat with Chicago artist Joe Davis about his engaging work and took questions. Click here to watch the video.
The original purpose of the wire was connected to the ranching business in West Texas. Joe started saving it a couple of years ago, and eventually some of it ended up displayed on the walls of his home. More recently, he has been manipulating it to make other shapes such as cubes and rectangles. He's re-bent it to make representational wall figures, and he has been working on a continuing series of graphite drawings.
The exhibition of Joe's work in our gallery has been held over to May 15. Although the Gallery is currently closed to visitors, selected pieces from the exhibition are available to view online. All works shown are for sale.