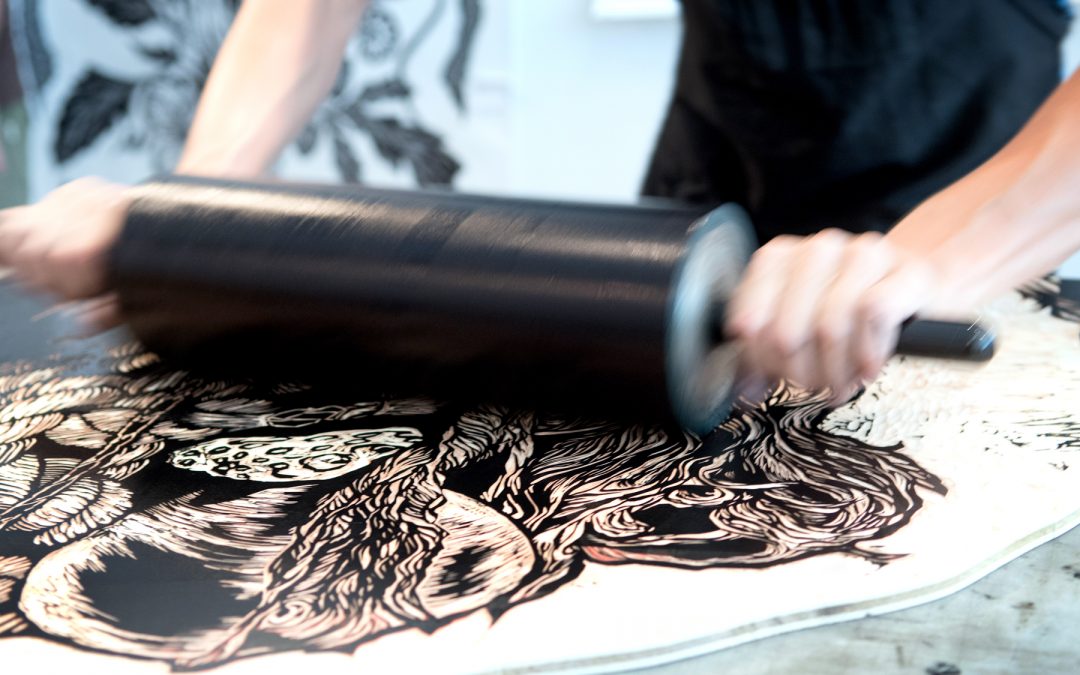 Saturday, October 16
Sunday, October 17
11am-4pm each day
Free and open to the public
Join us! You're invited to Color | Ink Studio & Gallery to watch as 14 artists print large-scale woodblocks on the "Big Tuna", BIG INK's giant mobile printmaking press! BIG INK, a New England-based arts business, is teaming up with Color | Ink Studio to present this event for the first time in the metro-Detroit area.
Each of the artists started work on their giant woodblocks in August using traditional Japanese chisels. BIG INK Director Lyell Castonguay has been guiding them through online instruction over the last two months. All the work leads up to a two-day public demonstration this weekend as the press produces paper prints from the woodblocks — essentially giant wooden stamps up to 4 feet by 8 feet.
"Seeing woodblocks printed at this scale is impressive," Castonguay says. "(It's) like magic. The woodblock is inked, sent through the press, and an image appears on the paper. It's like watching a rabbit pulled out of a hat."
Color | Ink Studio will be open to visitors from 11 a.m. to 4 p.m. each day. There will be a hands-on community art-making activity featuring small woodblock prints. Admission is free.
Saturday's participating artists are Theresa Ann Moore, Candace Law, Kelly Vander Kley, Lavinia Hanachiuc, Leanne Su, and Don Kilpatrick.
Sunday's participating artists are Martine MacDonald, Pat Duff, Katrina Maria Dienno, Madeleine Barkey, Emily J Legleitner, Robin Jourdan, Beverly Booth, and Frank Dulin.
Thank you for your interest in workshops at Color | Ink Studio. We've been re-opening slowly with only a limited schedule. Sign up for our emails to get the latest news on upcoming exhibitions, events, and workshops. And keep up on social media @ColorInkStudio.
Recent Events & Workshops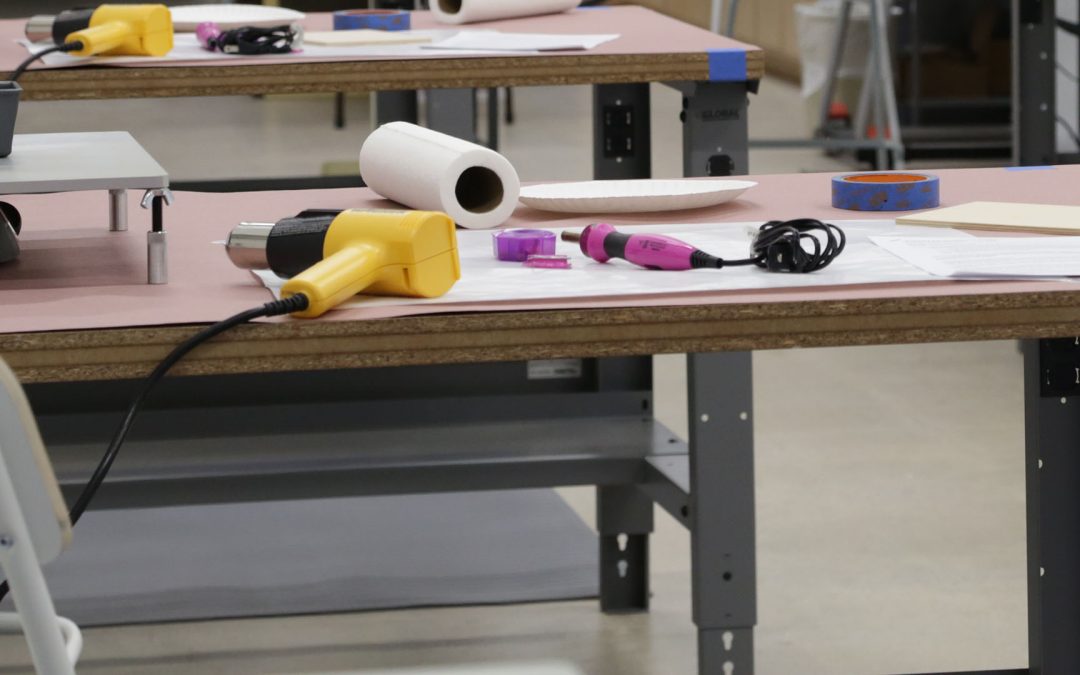 Description
Join visual artist Candace Law on Thursday, August 12 from 10 am to 4 pm as she welcomes artists back to the studio for the first "back to normal" encaustic workshop. The cost is just $145.
The day will begin with a review of the process and materials to get you warmed up, followed by demonstrations of several techniques that might have become "rusty" for you like creating texture, collage, and stencils. As always, there will be ample time for you to work individually.
Want more time to delve deeper as well as enjoy the company of other artists? Then register for Thursday and Friday, and have a second day for additional work as well as trying mark-making media and creating monotypes. The cost for both days is only $250.
Or are you curious about encaustic and want to give it a try? First-timers are always welcome, and you'll receive plenty of instruction as you learn about this wonderfully expressive medium.
The equipment, supplies, and many materials needed for the workshop are provided. Candace will be present on both days to provide guidance and answer your questions one-on-one as you work.
How to Enroll
Use the "Register" button above to enroll in the workshop. Space is limited and will fill fast, so don't wait!
Cost
One-Day Workshop: $145
Two-Day Workshop: $250
Date and Time
Thursday, August 12, 10 am – 4 pm
Optional 2nd Day:
Friday, August 13, 10 am – 4 pm
Location
Color | Ink Studio & Gallery
20919 John R Rd.
Hazel Park, MI 48030
248-398-6119