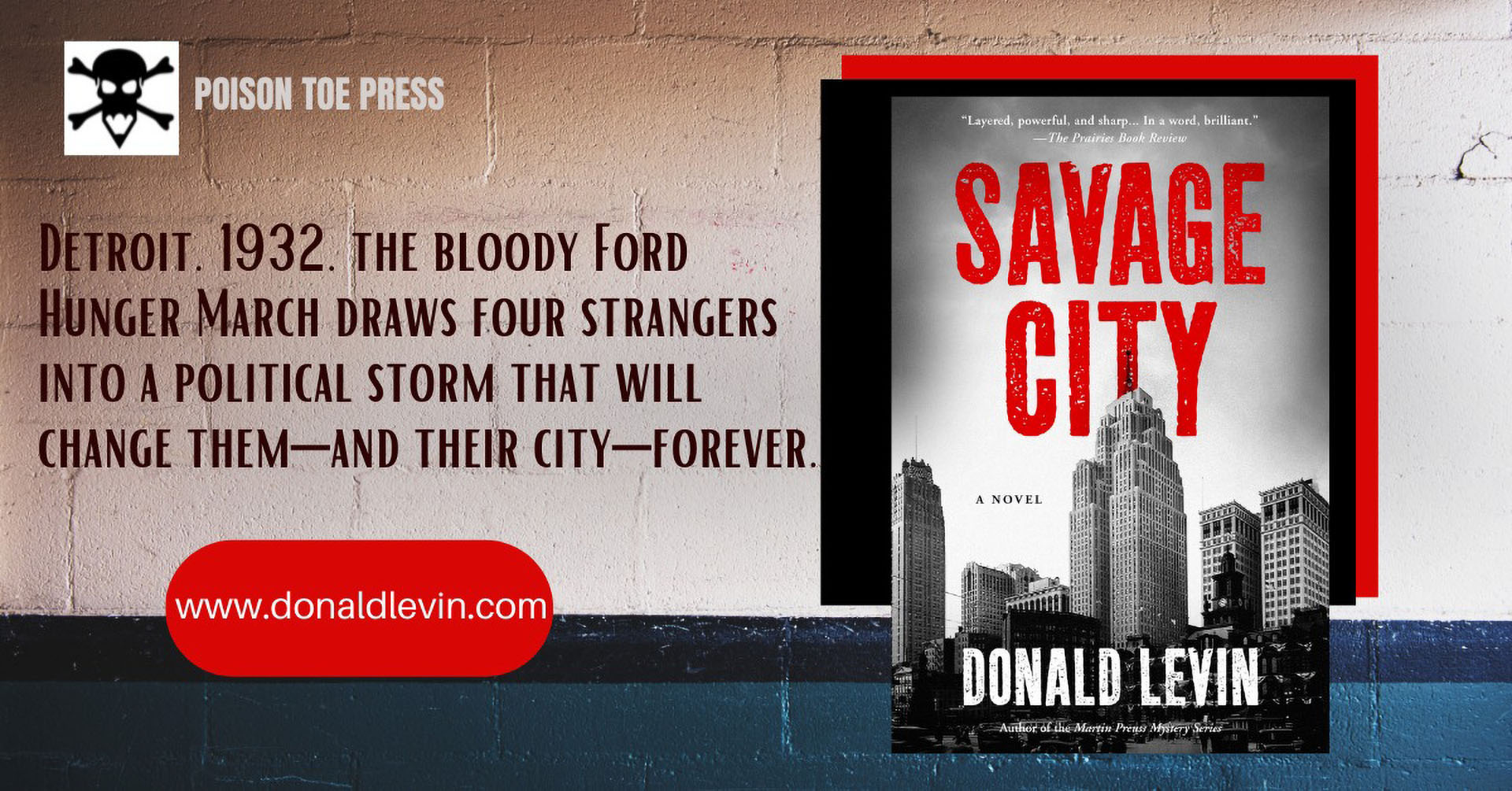 Join us for a book launch party celebrating the release of SAVAGE CITY, the newest novel from award-winning Michigan author Donald Levin. This will be a hybrid event, held live for participants at Color | Ink Studio in Hazel Park and simulcast over Zoom on Saturday, February 5, from 2-4 pm. This program is free and open to the public, with registration required for both in-person and Zoom attendance.
In a lively, interactive conversation moderated by Andrew Lark, Donald will talk about how he developed and researched the book, where the ideas and characters came from, and what its relevance is to today's world. Along with a Q&A session with in-person and online participants, Donald will give a reading from the book, sign copies for in-person attendees, and take orders for personalized copies from those attending over Zoom.
SAVAGE CITY is a historical novel set in Detroit in 1932. The fates of four people converge during a violent week of labor unrest in the bleakest year of the Great Depression. Detective Clarence Brown is one of a handful of Black officers in the Detroit Police Department, navigating a thicket of lies and racism to find the killer of a young Black man. Ben Rubin wants to move from petty crime into the ranks of Detroit's notorious Purple Gang. Elizabeth Waters is a fiercely independent Communist sympathizer who has turned her back on her privileged Grosse Pointe upbringing to join the workers' fight for a piece of the American dream. Roscoe Grissom is an unemployed auto worker enlisted by the fearsome Black Legion to sow terror as a night-riding emissary of hate.
Against the backdrop of the bloody Ford Hunger March, events hurl these four into the center of a political storm that will change them forever. SAVAGE CITY spellbindingly captures a key inflection point in the creation of modern American life.
"Layered, powerful, and sharp . . . In a word, brilliant. [Levin's] insightful ruminations on the nature of power, bloodshed, class and racial disparity, fascism, the labor problems of the era, and universal truth gives depth as well as substance to the affecting narrative." –The Prairies Book Review
---
To attend in person, select the number of spaces you are reserving. Light refreshments will be available. Face masks are required (even if vaccinated). Attendance is limited to 30 people.
To attend online via Zoom, select "1" as the number of spaces to reserve. You will receive an email with the link to the Zoom session in advance. Attendance is limited to 100 people.
Then fill in your name and contact information and click the button at the bottom to complete your registration. You will receive an email confirmation that your registration was successful, as well as an email reminder a couple of days before the event.