Joe Davis "Rewired" Exhibition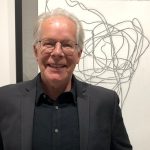 "Rewired" is an intriguing exhibition of objects and drawings from wire that is found all over the streets and alleys of Marfa, Texas. Chicago artist Joe Davis picks it up and gives it new life as graphite drawings and dimensional objects.
The original purpose of this wire was connected to the ranching business in West Texas. Joe began collecting it a couple of years ago, and eventually hung some of it on the walls of his home. Davis says about his work, "The accidental shaping of it by being crushed under truck tires, the rusty colored surfaces, and even the texture of it has become thoroughly engaging to me."
Davis has been working on a continuing series of carefully composed and executed graphite drawings which are presented here in his first solo outing. More recently he has been using the wire to create shapes such as cubes and rectangles that appear to float against the walls, casting beautifully complex shadows. The wall installation also highlights actual wire pieces, showing just how varied and diverse they are, yet when hung together become a whole abstract work in itself.
In late-April, we had the opportunity to chat live online with Joe about his art practice and several of the pieces in the exhibition. Click on the video below to watch our conversation.
The exhibition has been held over to May 15, and the pieces on display are shown below. Click on an image to see it larger or in a slide show. All work is for sale.
Maybe there's a piece that's caught your eye, but with the gallery closed, you're not able to see it in person. No problem…We're introducing "Curbside Gallery Viewing" for the final two weeks of the "Rewired" exhibition! Just contact us by email at Gallery@ColorInkStudio.com or by phone at 248-398-6119 to schedule an appointment. We'll meet you in the gallery parking lot to show you any of the pieces for sale. If you find a piece you want, you can take it with you. We'll get your credit card info, wrap the work and put it in your vehicle for you.
And while you're here, please take a minute to sign the guest book.