Larry Zdeb: "Dream Journals"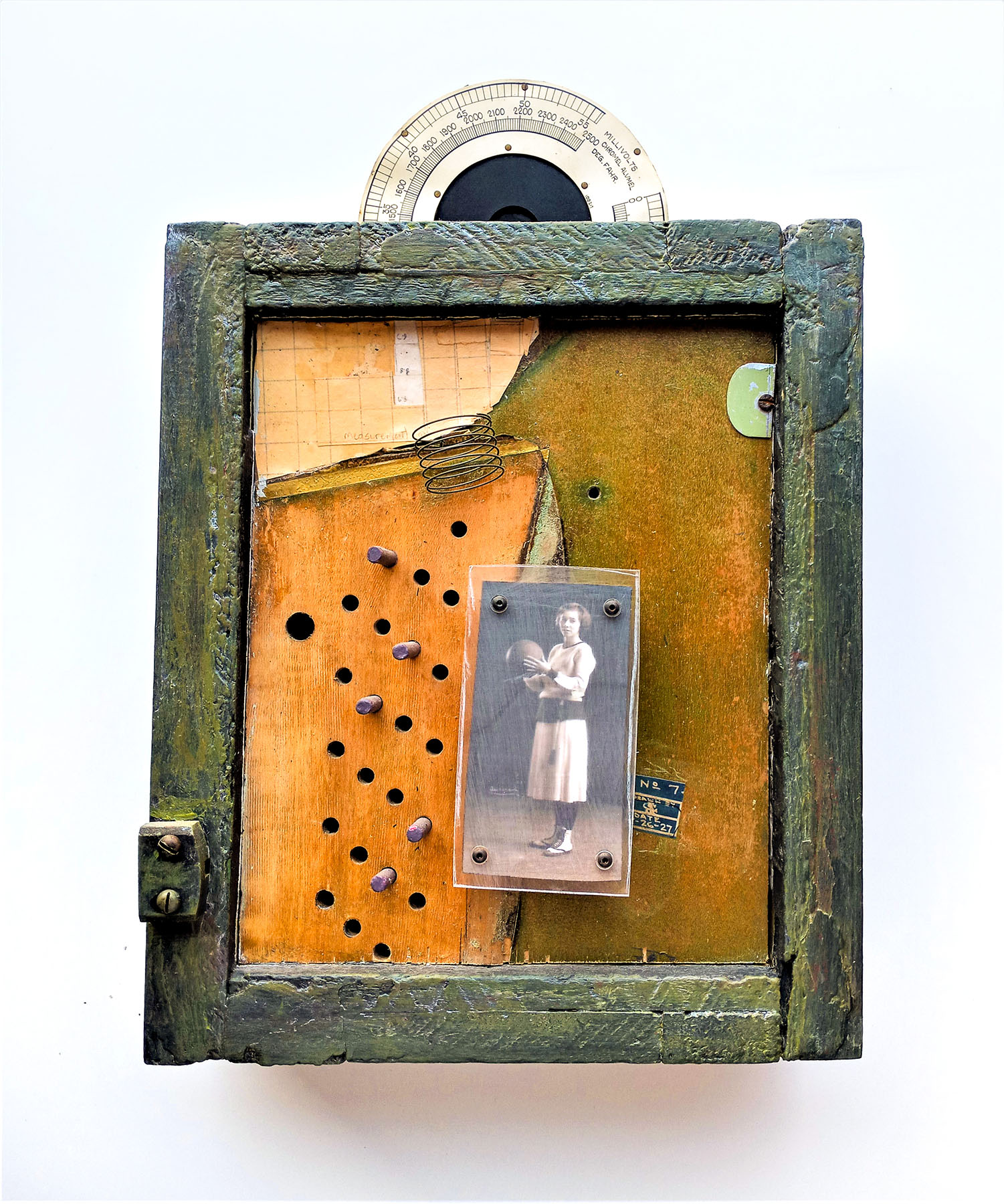 November 10 – December 20, 2023
Artist Reception: Saturday, December 2 at 1–3 pm
Color | Ink Studio & Gallery is pleased to present "Dream Journals", a solo exhibition of mixed-media assemblages by Troy artist Larry Zdeb. The show opens on November 10 and runs through December 20.
Larry has been called the "Master of Found Objects and Personal Mementos". What many see as trash is treasure to him, and he creates incredible assemblage pieces from discarded and antique items. Some of his pieces are larger and designed to hang on a wall, some are smaller for a shelf or tabletop, and others are wearable.
Many of Larry's pieces and pendants feature portraits, which he finds in old 1930s and 1940s yearbooks. His other materials come from collecting the kind of detritus that usually goes unnoticed. The items in his work are juxtaposed in such a way that the viewer might ask, "What is that?" The simplicity of his work is apparent, yet it is an illusion; they are dream journals!
Although his pieces are made from recycled objects, he doesn't label his work. "I don't feel like I want to be classified," says Larry. "I want to be doing anything that appeals to me at the moment, which is practically everything. I use items that might've ended up in a landfill and turn them into art."
Gallery Director Candace Law adds, "Larry has an amazing eye and skill for finding art in vintage and found elements. His pieces are one of a kind, and I'm always delighted to see how he turns a collection of unrelated objects into a final piece."
The public is invited to attend an Artist Reception on Saturday, December 2 from 1-3 pm. It's free, and guests will have the opportunity to meet the artist in person and talk about the artwork. Light refreshments will be offered.
Visiting the Gallery
We encourage you to start your visit to the Gallery by exploring the virtual tour of the exhibition below. Click or tap on the arrows to walk through the Gallery, click and drag to look around, or scroll to zoom in and out. If you see a work you're interested in, scroll down to find it in the listing of the works on display.
If you would prefer to view the exhibition or see a particular piece in person, either click here to schedule your visit, send an email to Gallery@ColorInkStudio.com, or telephone us at 248-398-6119. The Gallery is open most weekdays by appointment.
And before you leave, please take a minute to sign our guest book.
Artwork on View
The individual works on view in the exhibition are displayed below. Click on an image for more details or use the "Buy Now" button to purchase the original work of art. You can complete your purchase securely online with a credit card or PayPal, and payment plans are also available from PayPal or Affirm.