"Mokuhanga Workshop Show"
Curated by Nobuko Yamasaki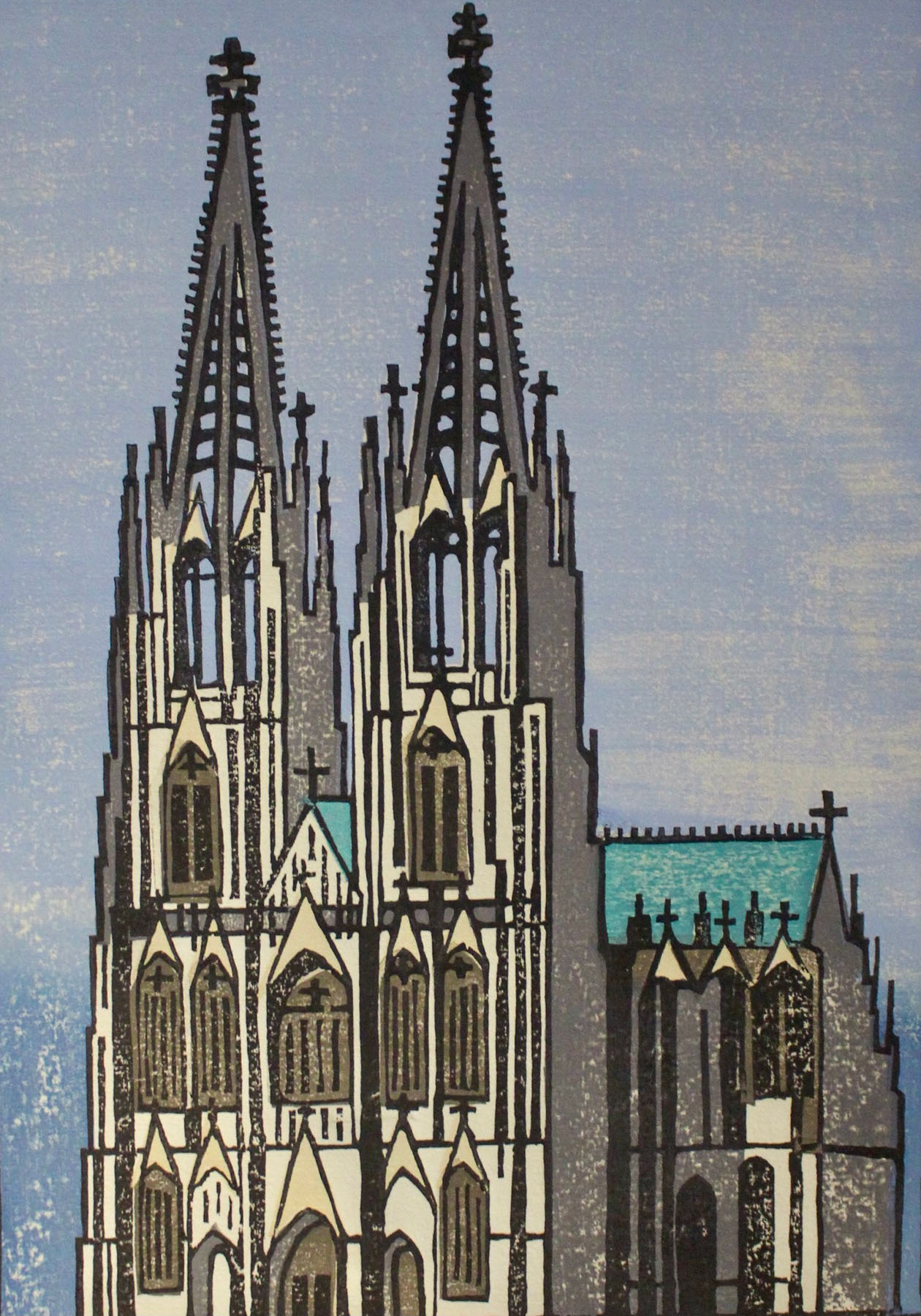 June 9 – July 7, 2023
Artists Reception: Saturday, June 10 at 1–3 pm
Color | Ink Studio & Gallery is pleased to present the "Nobuko Yamasaki: Mokuhanga Workshop Show", an exhibition of woodblock prints curated by artist Nobuko Yamasaki. The show opens on June 9 and runs through July 7.
Mokuhanga is a traditional Japanese technique for woodblock printing. It is best known for the ukiyo-e style prints popular in Japan during the Edo period (1603–1868). Similar to Western woodcut prints in some regards, mokuhanga uses water-based inks instead of oil-based inks—providing a wide range of vivid colors, glazes, and transparency.
Nobuko has selected for the exhibition prints by seven artists who have participated in her workshops: Jacki Boyer, Werner Croonen, Marcia Guestschow, Linda L. McCauley, Ann Elizabeth Mesritz, Antonia Oakley, and David Prescott. Several of Nobuko's own works are included, too.
Gallery Director Candace Law adds, "We're pleased to welcome Nobuko back to the Gallery and delighted to feature a selection of the creative woodblock prints produced by Detroit-area artists who have studied with her."
The public is invited to attend an Artists Reception on Saturday, June 10 from 1-3 pm. It's free, and guests will have the opportunity to meet the artists and discuss the exhibition in person. Light refreshments will be offered.
Visiting the Gallery
We encourage you to start your visit to the Gallery by exploring the virtual tour of the exhibition below. Click or tap on the arrows to walk through the Gallery, click and drag to look around, or scroll to zoom in and out. If you see a work you're interested, scroll down to find it in the listing of the works on display.
Process
Many people may know about mokuhanga, a traditional Japanese technique for woodblock printing. It is best known for the ukiyo-e style refined by many talented artists such as Hokusai, Sharaku and Utamaro in the Tokugawa period (1615-1868). In a typical process, a mokuhanga master creates a picture, a craftsman carves it into cherry wood, another craftsman prints it, and a company sells the prints. When I make my prints, I follow the same process. But, I do this all on my own, carving both sides of plywood boards. I also use watercolor, special traditional tools and glue for fixation.
Multiple copies of a mokuhanga print can be produced from one woodblock, but usually copies are numbered, and sometimes original woodblocks are destroyed to prevent proliferation of "originals". So several copies of "originals" can exist with small differences in hues and colors because of the difference of each "batch".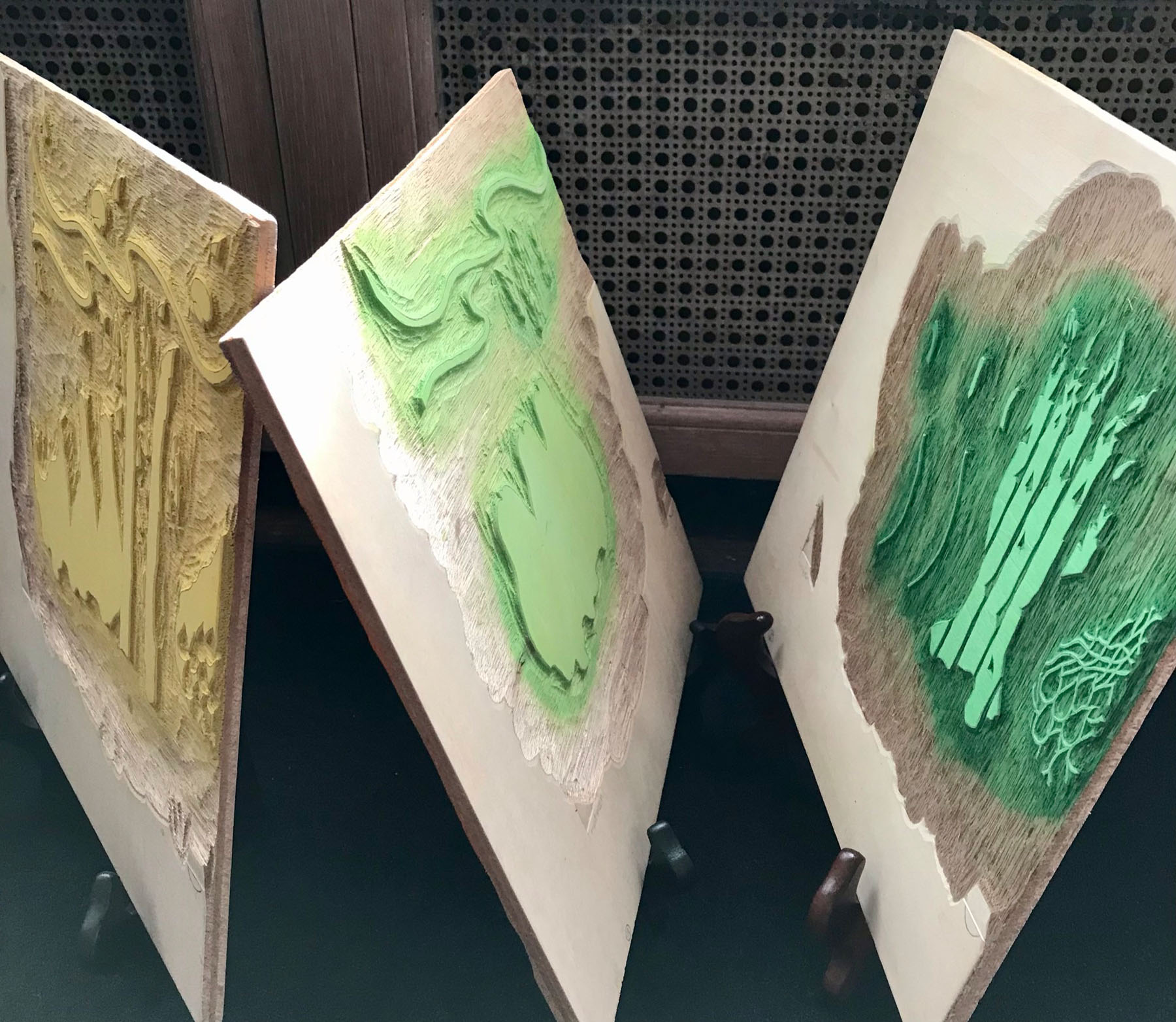 Multiple boards are carved for a print design—one side for each color in the print. Each board is inked in turn and the paper pressed against it.